Get involved with Angel Shed during the Covid-19 lockdown!
Keep your body, voice and imagination in shape through our 'Join In' playlist on YouTube.
Get creative and send us your #isolationcreations for our 'Angel Shed Mixtape'.
Meanwhile, sessions for our members will be taking place online and parents/carers will be contacted individually about plans for their group.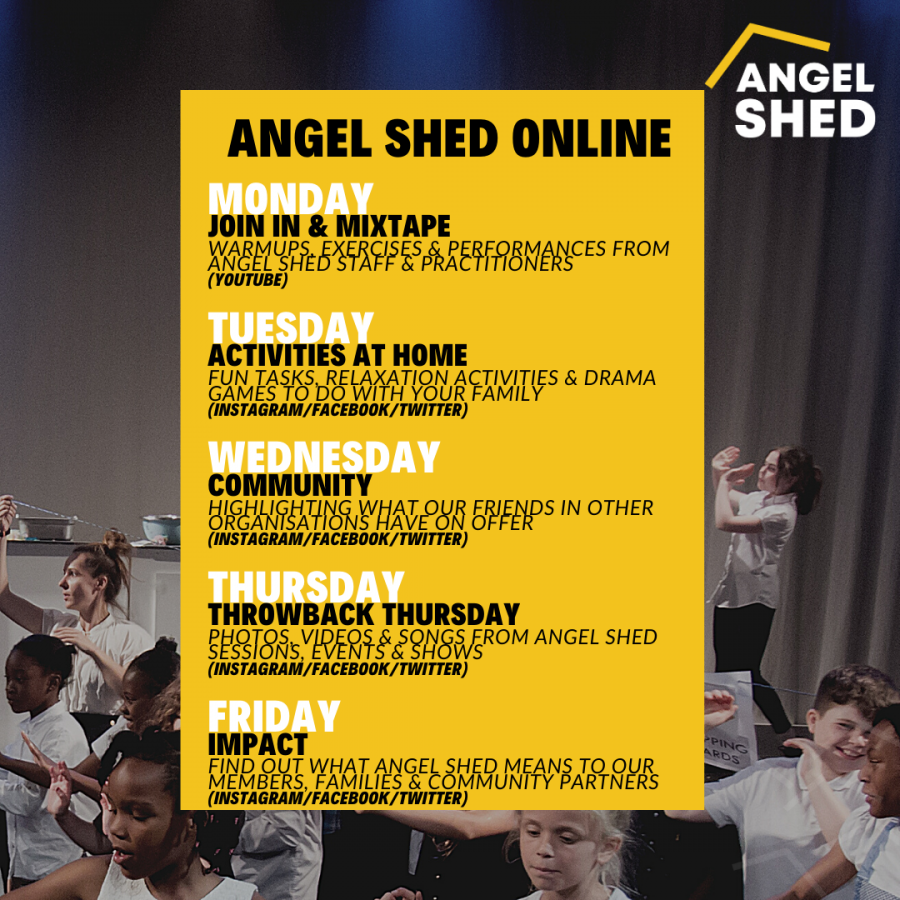 VIRTUAL CHOIR - GET INVOLVED!
Calling all members, past members, practitioners, former practitioners, parents, carers, staff, trustees, volunteers, patrons and friends of Angel Shed! We are forming a virtual choir and anyone can get involved.
We want to bring everyone together while we are apart and we have chosen 'Lean On Me' as our first song. All you have to do is pick a part to sing, record yourself, and send us the video. You can also play an instrument, dance, sign or clap along if you prefer. We will then create a collage of everyone performing together! Details below, but please email info@angelshedtheatre.org.uk if you have any questions.

Listen
If you don't know the song, or just want to refresh your memory, you can find the Bill Withers original on YouTube here. Our version is in the same key. https://www.youtube.com/watch?v=fOZ-MySzAac
Tracks
We have prepared some tracks for you to sing along to on headphones while you record your video. You only have to record one part, but you may record more if you like - depending on how many we receive, we may only use one or two lines to make sure everyone can take part! 
You can stream the tracks on our SoundCloud here: https://soundcloud.com/angel-shed-theatre/sets/angel-shed-virtual-choir-lean-on-me

Or download them here:
Introduction (melody, humming) - lower part
Introduction (harmony, humming) - higher part
Verse 1 (melody, singing)
Chorus (melody, singing)
Verse 2 (melody, singing)
Verse 3 (melody, singing)
Choose the part you want to record (introduction, verse 1, 2 or 3, or chorus). 

Download the relevant track (links above), or stream it from our Soundcloud page (link above). 

Practise with the track. The introduction and verse tracks have a 1 2 3 4 count-in and the chorus has a 1 2 3 count-in. Each track has an electric piano accompaniment and the melody played on piano to sing along to. The lyrics are below.

Set up your camera/phone/tablet/computer so that the view is landscape and at least your head and shoulders can be seen.

Make sure any light source is on you, not behind you, and that there is nothing in the background that could reveal anything about where you live or any private information. 

Have the track playing on headphones (so you can hear it to sing along to but it doesn't pick up on the video recording) and listen through once to get the starting note. 

Press record, play the track again, and email us your video to

info@angelshedtheatre.org.uk


If the file is too large, use WeTransfer.com to send it over. 
Instruments, Clapping and Faces!
If you don't want to sing, but still want to get involved, you can film yourself clapping, signing Makaton or BSL, dancing, smiling, or just pulling funny faces along to the song and we'd love to use the footage!
If you play an instrument, or would like to play a drum part on pots and pans from your kitchen, get in touch and we'll work out something for you to play!

Lyrics 
VERSE 1
Sometimes in our lives we all have pain
We all have sorrow
But if we are wise
We know that there's always tomorrow

CHORUS
Lean on me, when you're not strong
And I'll be your friend
I'll help you carry on
For it won't be long
'Til I'm gonna need
Somebody to lean on

VERSE 2
Please swallow your pride
If I have things you need to borrow
For no one can fill those of your needs
That you won't let show


VERSE 3
If there is a load you have to bear
That you can't carry
I'm right up the road, I'll share your load
If you just call me
TAKE PART, WATCH & EXPLORE

Free opportunities from other organisations
We have put together some useful links which may be of use to our members or their families during lockdown - these include digital performing arts education content, online activities and workshops to join in, streaming of theatre, music and dance for free, and other resources and support. Click the link above to download this document.
Please note these links will take you away from the Angel Shed website and we cannot take responsibility for external content.